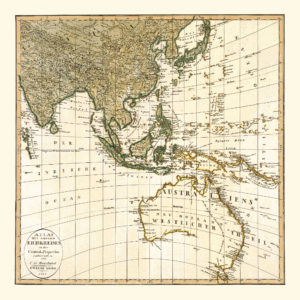 Map of Southeast Asia and Australia, 1803.
This map depicts Southeast Asia and Australia as it was known to European mapmakers in 1803. There were several voyages aimed at exploring and mapping the continent; starting with Willem Janszoon who, as the first European, landed on Australia's Cape York Peninsula in 1606, followed by Dirk Hartog's navigation to the coast of what is today the North West Division of Western Australia in 1616 and Abel Tasman's second voyage to map the continent's northern coastline in 1644. The eastern coast was charted by Captain James Cook in 1770. The entire coastline had not been drawn into maps before the first voyage of Captain Matthew Flinders (1801-1802) during which he mapped the remaining part of the southern coast and proved that Van Diemen's Land (Tasmania) was separated from Australia by a strait, named after Flinders' fellow navigator George Bass. The strait is already depicted in this map. During his second voyage in 1803, Flinders circumnavigated Australia as the first European. After completing the circumnavigation, Flinders set off to sail back to England. However, he spent six years in French captivity after he stopped in Mauritius because of the poor condition of his vessel.
The life story of this famous navigator and cartographer is captured in Miriam Estensen's "Mathew Flinders: The Life of Mathew Flinders".
Buy restored reproduction of this map printed on a high quality handmade paper here.