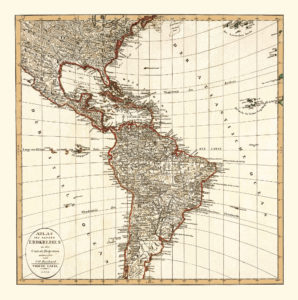 Map of America, 1803.
The early 19th century was a time of change in Latin America as the Spanish American wars of independence (1809-1826) completely reshaped the region. The political instability in Spain caused by Napoleon's invasion gave rise to conflicts in the Spanish colonies in Southern America. The American Revolution (1771-1781) and the French Revolution (1789 – 1799) were the other two key factors that inspired the process of Latin American decolonization. During the wars, the Americans of Spanish Ancestry and the Mestizos gradually took over the administration originally controlled by Spanish-born officers. The Spanish resistance in America, especially in the regions of what are today Ecuador, Colombia, Venezuela, and Argentina created self-governing juntas and fought against the royalists. The conflicts resulted in the creation of the independent states that make up Latin America today.
Buy restored reproduction of this map printed on a high quality handmade paper here.