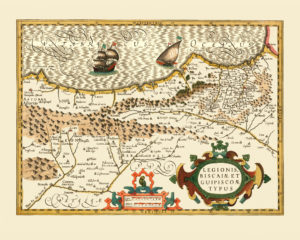 Map of Northern Spain, 1606.
This map covers part of Spain that is today the autonomous communities of Asturias, Cantabria, Basque County, Castille and Leon, La Rioja and Navarra. This area is well-known to modern day pilgrims walking the Camino de Santiago pilgrimage. Two routes of the Camino lead through this area: the Camino Frances: from the Pyrenees (where it connects to the network of routes converging from all of Europe), passing the cities of Pamplona, Logrono, Burgos, Leon, Ponteferrada towards Santiago de Compostela; and Camino del Norte, which is a route mimicking the Biscay Bay coastline towards Galicia. Nowadays, the pilgrimage to Santiago de Compostela is very popular, and approximately 200 000 pilgrims walk one of the routes every year. This was not the case when this map was first printed in 1606, though. In the 17th century, the reformation movement continued to be active in Europe and wars were frequent in the 16th and 17th centuries, which made Spain extremely complicated for pilgrims to enter at this time. There are many books written about the Camino de Santiago from the pilgrim's point of view.
Jean-Christophe Rufin's "Immortelle randonnée" (in French, Italian and Czech) gives the reader a taste of the life of a modern pilgrim and the atmosphere of the Way in general. "Walk in a Relaxed Manner: Life Lessons from the Camino" by Joyce Rupp is another memoir from a pilgrim's journey to Santiago.
Buy restored reproduction of this map printed on a high quality handmade paper here.