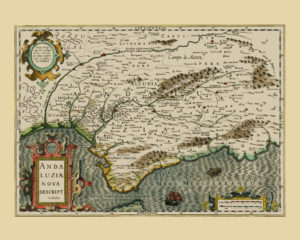 Map of the Spanish region of Andalusia in the early 17th century.
At the beginning of 17th century, Spain underwent rapid development and Andalusia was no exception. On the contrary, it was one of the most influential and prosperous regions under the Spanish Crown. Given its strategic position, the cities of Seville and Cadiz were gateways for all goods imported to Europe from the Spanish colonies. This was Palos de la Frontera, a port on the Atlantic coast of Andalusia, and from where Christopher Columbus departed from on his voyage in 1492. Many Andalusians participated in his expeditions and later became responsible for organising shipping lines between Spain and the colonies. Following the fall of Grenada in the same year, Muslim rule on the peninsula ended and Islam was pronounced an illegal religion in Spain. In the years to come, the Moorish population was forced to convert to Christianity and scattered throughout the other parts of Spain.
At the time this map was printed, i.e. about one hundred years after Columbus' expedition, the trade between The New World and Spain was booming, and Andalusia took a large share of the profit. The economic boom was a breeding ground for the Spanish Golden Age, an era in Spanish history where major works of art in painting, music, and literature were created. This era is represented by the famous painter Diego Velasquez, an Andalusian native, and Miguel Cervantes Saavedra, who spent several years of his life in Seville.
Jean Canavaggio's biography "Cervantes" presents the Golden Spanish Age through the life and work of this famous Spanish author.